Baby Suite
Little Smarties developed a new baby suite for our nursery in 2013.  This bespoke single storey building allows us to provide a unique atmosphere for your precious babies.  It is equipped with a separate sleeping room and this is extremely quiet so that your loved ones can get a good sleep during the day.   We have a separate milk kitchen for bottle preparation.  The building has under-floor heating throughout so that temperatures are constant and we don't have to worry about hands on hot radiators!  We operate a no-shoes policy in the baby suite so that we minimise the chances of grubby stuff getting into the building.
The baby suite has its own outdoor all weather protected area with a overhanging roof so that babies can crawl from inside to outside even if it's raining.   Babies will therefore be able to get the benefit of fresh air whatever the weather.
The windows are designed so that they go right down to the level of the ground and this means that babies can see outside if they want to.
More important than all of this is the quality of care that we bring.  Even before your baby starts we will visit your home in order to get to know you and to find out more about your baby's individual needs.  This makes the transition to the nursery less daunting for both baby and parents!  Whilst at nursery our staff (and particularly the 'key person') will offer your baby love and attachment.  You will feel confident that as a parent you have a partnership with us to ensure we focus on every aspect of your baby's care and development.
If you require a particular milk variety, then we will get it in.  If you'd like us to follow your regime for recycling nappies, then we will be happy to do so.  If you'd like us to follow a particular sleep routine, then again that's fine.  We'll follow what you'd do at home.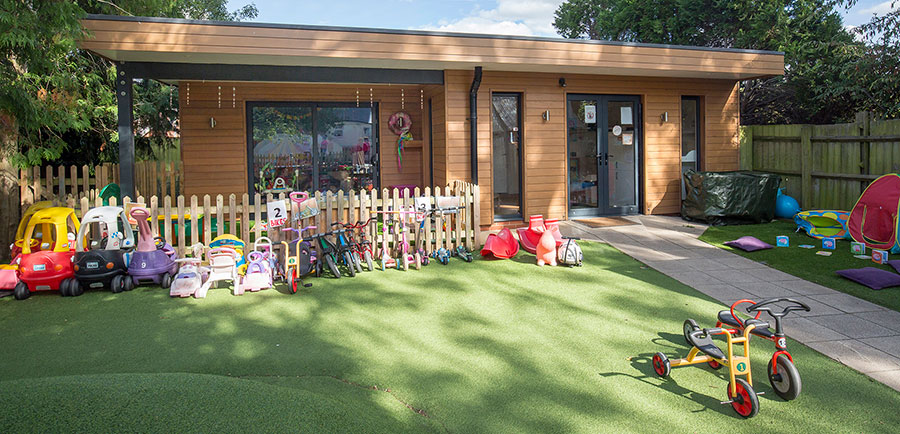 Little Explorers
We will discuss moving your baby to Little Explorers once your baby becomes a toddler.  Before the move, your toddler will have a handful of play-dates in the new room.  A new key person will be allocated and they will also get the chance to get to know your loved one as part of these play-dates.  This ensures that the child and parent feel settled when it's time to transition to the new room.
The room is on the ground floor of the main house of the nursery (on the right as you walk in).  It is a light and airy room with windows at both ends.  At the toddler stage, we develop more a more activities for the children to enjoy.  If they are interested in something, we'll use this to extend their learning.
Meal times are taken together in the room and children will increasingly be used to the social life that this engenders.  This means that they will try new foods because every one else seems to be doing so.
Activities in the room are age-appropriate we'll try lots of new and exciting things – making things, building things, rolling things, bouncing, dressing up and so on.  There's lots of fun!
"The younger children enjoy songs and rhymes and have cosy book corners in their part of the nursery where they can easily access books to look at alone and with staff. This helps to contribute to the development of children's early language and literacy skills. All children have lovely experiences outside to make marks with painting and drawing offered. Children enjoy free drawing on a large piece of paper on the floor outside".

OFSTED Inspection Report 2014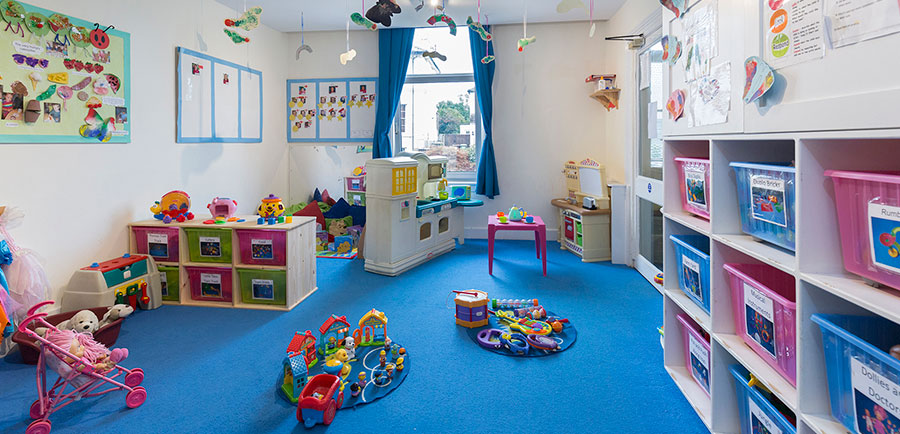 Little Learners
Your child's development is further extended in Little Learners.  This is located on the ground floor of the main house of the nursery (on the left as you enter).  The room is full of light and has it's own outside activity area.   Children continue to gain their independence and with ongoing support and reinforcement will try new activities and apply themselves to new challenges whether it's dressing up, making mud pies or balancing on boards.  If it's fun, then there's a potential for a new learning experience.  Our staff are trained to respond to interests and to create learning opportunities around them.
Learning Centre
The Learning Centre is the entire top floor of the nursery.  It's the pre-school room and we focus on giving children all they need to ensure that they make the smooth transition to school.  We follow the Early Years Foundation Stage (EYFS) principles.  This covers a broad range of knowledge and skills.  However, learning is still child-led and our staff will allow children to learn through play.
The EYFS is also used in the first year of primary school and so we believe that nursery will give your child a head-start when going to school because they will be used to the principles applied at school.  Your child will be ready and able to learn.  We have over the years developed great links with the local primary schools and can advise you on this when the time comes.
"Links with the local schools have been developed very well. As a result the reception teachers visit the children in the nursery so they can get to know the children who will be moving to their school. Children are therefore very well prepared for their transitions, such as moving to the next stage in the nursery or school."

OFSTED Inspection Report May 2014
The EYFS covers three Prime areas and four Specific areas of learning that are all interconnected:  Personal, social and emotional development, Communication and language, Physical Development, Literacy, Mathematics, Understanding the world and Expressive Art and Design.  These areas support and develop the Three Characteristics of Effective Learning: playing and exploring, active learning and creating and thinking critically.  We ensure that these are incorporated into your child's routines through a variety of activities – both indoor and outdoor.
"All children have easy access to books, both inside and outside the building. They have excellent opportunities to look at books alone and with the staff. The preschool children thoroughly enjoy story-making sessions and sit fully engaged in the session. They enjoy being able to contribute to each part of the story".

OFSTED May 2014